HEATHER CONNELLY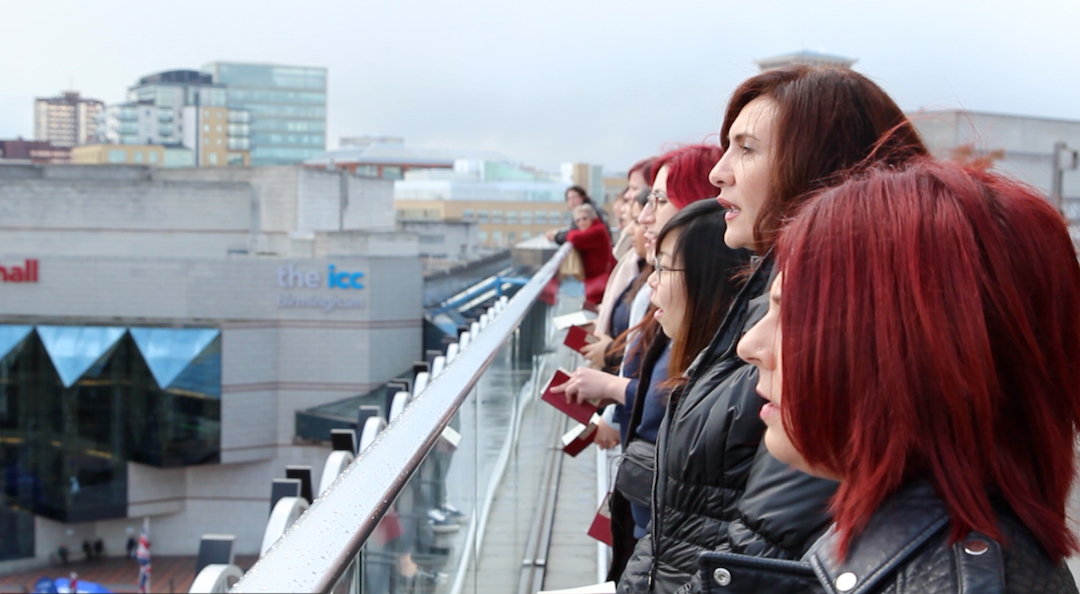 Translation Zone(s): A Stuttering (2016) performing to the City from the rooftop garden at the Library of Birmingham, video still by Thomas Kilby. Digital video documentation of a performance, Library of Birmingham.
Filmed by Thomas Kilby (UK), Johrah Al-Homied (Singapore) and Kauri Kaukvere (Estonia) and edited by Thomas Kilby and Heather Connelly. Original Composition by Heather Connelly, score arranged in association with composer Yfat Soul Zisso and conductor Daniel Galbreath. Performed by Lulu Baldrelin (Arabic), Anqi Chan (Mandarin), Chen Chang (Taiwanese), Bruno Grillo (Portuguese), Joanna Delyse Packwood (English), Maria Kourtesi (Greek), Pan Pan (Shanghaiese), Anna Pirvola (Finnish), Radhika Sharma (Hindi), Chutima Tatan (Thai), Menglu Zhang (Japanese), Yfat Soul Zisso (Hebrew). This project was developed during an AHRC Cultural Engagement Fellowship at the Library of Birmingham and supported by Birmingham City University.

Translation Zone(s): A Stuttering documents a live polylingual performance that took place on 30th April 2016 at the Library of Birmingham that was created as part of a research project during an Arts and Humanities Research Cultural Engagement Fellowship and Birmingham City University.
The video comprises of edited extracts of the different experimental scores performed in different locations around the library. A Stuttering was the result of a six-week action research project, which involved one-to-one interviews, discussions and workshops with participants from ten different language communities, a composer and conductor, and was designed to immerse participants and audiences in the 'sounds of language'.
Focusing upon translation and language as physical activity and embodied phenomena, the work invites the audience to listen to and experience the various abstract alphabetic sounds that the participants exchange and experiment with. This Babelian cacophony mobilises Deleuze's and Guattari's notion of the stutter to break languages apart, making them trip over and infect one another, rendering the familiar strange. The durational and processual nature of the project enabled the participants to examine their relationships with their own and others' languages provoking discussions about linguistic hospitality.
Creating a safe space for them to reflect upon their own cultural identities and unpack the inherent socio-political agendas that often pass unnoticed, in transcultural communication. Something that is becoming increasingly more pertinent and prevalent as we head towards Brexit and continue to embrace globalisation. As a result, the performers felt empowered, connected to their mother tongue, confident and cognisant of their particular subjective position, aware of how they could draw upon their own language and culture to generate new knowledge.
Heather Connelly is an artist/researcher based in Nottingham. She is currently research fellow at Birmingham City University (BCU). Her art practice/research concerns art-and-translation and linguistic hospitality. She is particularly interested in how art practice can be used to examine the performativity of translation and engage people in the complex issues of translation, language learning and more broadly transcultural communication. In 2016, she established Translation Zone(s) a programme of events and artworks set up to interrogate these issues during her AHRC Cultural Engagement fellowship. She is co-founder of Practice as Research Network (2017) at BCU and InDialogue (2011) an independent biannual symposium (2012, 14 & 16) that interrogates dialogic practices through papers, performances and exhibitions, which has been held at Nottingham Contemporary, New Art Exchange, Primary and Backlit Studios. Her current practice develops her practice-based PhD, Speaking through the Voice of Another (Loughborough University), which she completed in 2015.