VERÓNICA GERBER BICECCI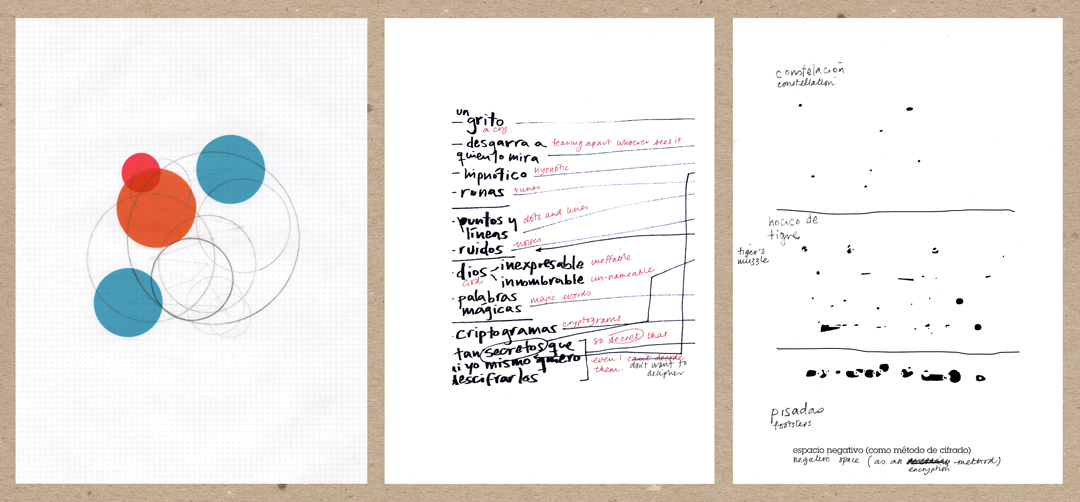 LEFT: Exhumation (2006) animation, 50"
This animation shows the process in order to exhume the silences of one of the poems in Four Quartets by T.S. Eliot. The artist drew straight lines and circles connecting each "comma", "period", or "semicolon", then removed the text. The resulting graphic is a translation gesture to show the invisible machinery of silences behind a text.
CENTER & RIGHT: Verónica Gerber Bicecci & Anna Milsom
Inverted (&Translated) Poem (2017) | Poema invertido (2013)

Translation as Collaboration: hidden messages and unsolvable jigsaws – TALK – by Anna Milsom. 6 May 2017 The Shoe Factory Social Club, Norwich. Anna Milsom discusses translating Poema Invertido, Verónica Gerber Bicecci's response to Poema Plástico by Mathias Goeritz. SEE EVENTS

Verónica Gerber Bicecci's Poema invertido* begins with a question: could Mathias Goeritz have left a message in his Poema plástico that no-one has noticed? Goeritz once described the piece as "a lament set into the most luminous wall at the Museo Experimental el Eco", the art museum in Mexico City he conceived as a sculptural manifestation of what he called "emotional architecture".
Becoming obsessed with the idea of trying to decipher the unknown language that Goeritz invented, Gerber Bicecci asked a number of different people to help her interpret his poem. From the four responses received, she extracted words and ideas that ultimately became "the pieces of an unsolvable jigsaw puzzle" in her own Poema. For TransARTation!, Poema invertido has entered a new phase: drawing on notions of 'thick translation' whereby a text is located within a web of other texts and translation is seen as a positive form of rewriting rather than in terms of loss, literary translator Anna Milsom offers English versions, handwritten into the original document. The Spanish and English texts co-exist alongside one another in Inverted (&Translated) Poem, taking one more step in the chain of responses that started with Mathias Goeritz's visual poem embedded in a museum wall.
Verónica Gerber Bicecci (Mexico City, 1981). Visual artist who writes. She published the books: Mudanza [Moving Out] (2010, Ed. Auieo, 2017, Ed. Almadía) and Conjunto vacío [Empty Set] (2015, Ed. Almadía) which received in 2013 the Aura Estrada International Literature Award. Some of her pieces in other media are: Biblioteca ciega [Blind Library] (2012, Centro Cultural de España), Poema invertido [Inverted Poem] (2013, Museo Experimental el Eco), Conferencia secreta [Secret Lecture] (2014, DePaul University Chicago; 2015, Kells Hay Festival and Museo MACO Oaxaca), and Los hablantes [The Speakers] (2016, Museo Amparo, Puebla; 2014, Museo Universitario de Arte Contemporáneo, MUAC).
She graduated with a Bachelor's degree in fine arts from the ENPEG, La Esmeralda and a Master's in art history from the UNAM. She is editor at the cooperative Tumbona Ediciones, a heterodox project on experimental writing and art intersections: www.tumbonaediciones.com and tutor of the Photography Production Seminar at Centro de la Imagen.
To learn more, visit: veronicagerberbicecci.net
ANNA MILSOM TALK…
on collaborating with Verónica Gerber Bicecci
All the events are free, but places are limited and must be pre-booked.
For further information and/or to book a workshop please
EMAIL US
Translation as Collaboration: hidden messages and unsolvable jigsaws – talk – by Anna Milsom. 6 May 2017 The Shoe Factory Social Club, Norwich.
Anna Milsom discusses translating Poema Invertido, Verónica Gerber Bicecci's response to Poema Plástico by Mathias Goeritz.