TRANSLATION GAMES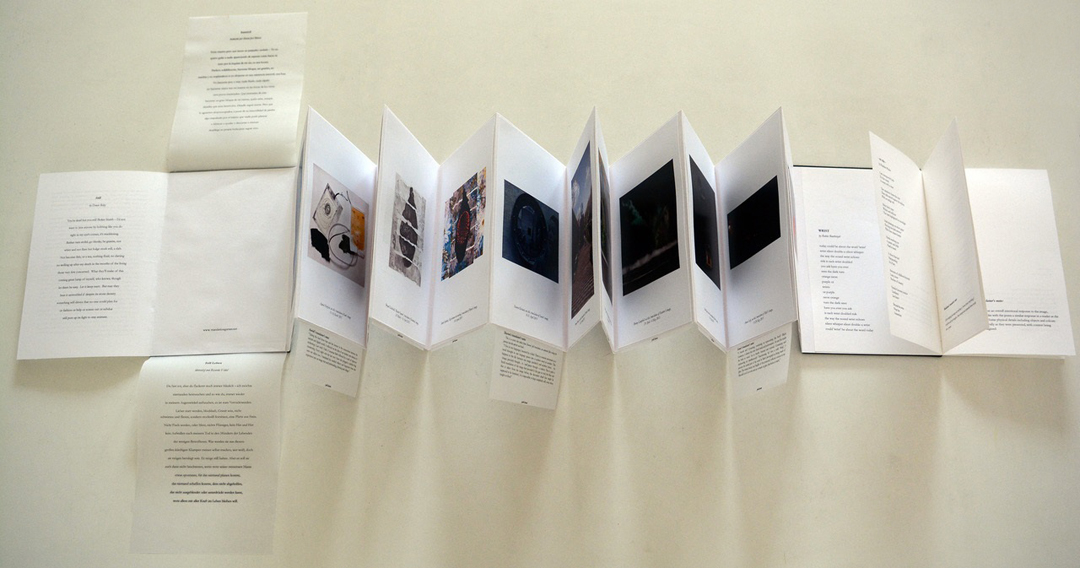 Translation Games: Still in Translation, artist book (2015), produced by Ricarda Vidal, including artwork, poetry and translations by Maria-José Blanco, Robin Bothroyd, Anna Cady, Heather Connelly, Briony Campbell, Molly De Dios Fisher, Bryan Eccleshall, Danielle Emtage, Sophie Heatley, Auriol Herford, Katarina Kelsey, Sharon Kivland, Anna Mace, Domingo Martinez, John Oswald, Selina Parmar, Juneau Projects, Denise Riley, Matt Rowe, Julia Schiefer, Sarah Sparkes, Sam Treadaway, Ricarda Vidal, Madeleine Walton, Nick Wilson.

The poems and images presented in this book are the result of a translation game conducted by Ricarda Vidal and Maria-José Blanco in collaboration with twelve poets and twelve visual artists between February and June 2015: Still in Translation. This project was funded by the Arts and Humanities Research Council.
Denise Riley's unpublished poem Still provided the source text for the game. The poem was given to an artist (Sam Treadaway) with the commission to translate the words into imagery. Following the rules of Chinese Whispers, each artist passed on their image (but not the original text) to another artist asking them to translate it into another image, which was passed on to the next artist. In this way the work was translated through the chain of twelve artists, each working with the medium of their choice and each producing an original translation of the work created by the previous artist in the chain.
We also asked each artist to provide us and the next person in the chain with a brief commentary on their translation. Once the chain of visual translations was complete we announced a public competition to retranslate the final image back into poetry. The eleven poems that were submitted in response to the challenge are collected at the back of this book. Based on all the different versions of the poem, Maria-José and Ricarda finally produced a 'conventional' translation of Still into Spanish and German. Ricarda made the artist book as a way of presenting the flow of the project where each work follows on from the next while also offering the possibility of comparing different version with each other and the original or looking at all the different versions at the same time.
Ricarda Vidal is a lecturer, translator and curator. She teaches in the Department of Culture, Media & Creative Industries at King's College London. She is the founder of Translation Games, a collaborative research and exhibitions project into translation across languages and the fine arts (www.translationgames.net). Ricarda is the author of Death and Desire in Car Crash Culture: A Century of Romantic Futurisms (2013) and co-editor (with Maria-José Blanco) of The Power of Death: Contemporary Reflections on Death in Western Society (2014) and (with Ingo Cornils) of Alternative Worlds: Blue-Sky Thinking since 1900 (2014). Together with the artist Sam Treadaway she also runs the bookwork project Revolve:R www.revolve-r.com, an exploration of visual communication in collaboration with 24 international artists. www.ricardavidal.com